BEYOND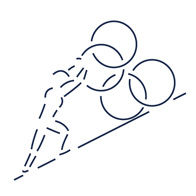 The most desireable collector's cars have always been industrial art, pinnacle of technology and styling of their aera, described as user-friendly interactive art.
We saw many things develop over recent years: The quality of restorations, the way of appreciating collector's cars, the idea of being a custodian for special vehicles for a certain period of time.
Collector's cars in a certain way became immortal: art objects that may or may not be used to drive and enjoy, but surely not decay over time. Some say even that surpassing their keepers is a physiological challenge of the highest grade.
Carficionado always tries to look beyond our own nose and we think there are many subjects not easily to be accessed: What is the right stage of a restoration in correlation to a vehicle's entire (racing) life? How does a collection pass from one generation to the next? Why do we collect and care for these objects at all? How does the scoop on the collection change over the lifetime of an owner? Are certain vehicles already too valuable for use? How do cross-border trades function, taking ever more complicated fiscal, administrative, logistical and registration procedures in account?
Carficionado does of course not know all the answers, but for sure we will find out. Our global network helps us to resolve most issues.
You see: we never get really bored at Carficionado but we find also time to develop some additional topics:
Insurance:
Valuation, driver's age, condition, yearly appraisals? Still not meeting the value? Does that sound familiar? We put down a concept for agreed value total risk insurance and that gives our clients a good feeling through a product we designed and DMC delivers. Speak to us for details.
Events:
In the early days of Carficionado we gained a lot of experience in classic-car related events. Today we are proud co-organizers and sponsors of the Bernina Gran Turismo in St. Moritz. One of the finest hillclimb events throughout Europe. www.bernina-granturismo.com
Filming:
Sometimes it is not enough to photograph or write about a specific topic. Recording originality and protecting knowledge otherwise lost for ever, it may be necessary to put it into a bigger picture. This may result in a full scale cinema movie.